Summer is officially upon us and we are desperately trying to ditch the black and embrace the beautiful weather. Re making your entire wardrobe for a couple of months is folly, however your wardrobe is always a reflection of how you're feeling so why not add a kick to your step (or a shoe or two or three..). Here are our top tips for updating your wardrobe (and your mood) wisely.
1. Winter boots X Summer dress
The UK weather tends to be unpredictable... So don't hang up your winter boots just yet. Add an edge to your chiffon frock or silk slip dress with a grungy leather boot. Anker that bohemian fly away number and gain some mileage on your outfit. The red carpet gown was transformed at the Dior cruise show with the notorious combat boot and we're not seeing this look leaving anytime soon. (Blogger Marianna Hewitt)
2. Tie the knot
We didn't invent this savvy styling hack however it is comes with two capital E's; Easy and Economical. Add a splash of colour to brighten up an outfit in seconds. Not only will this upgrade your summer style game, but a luxe take on the scout's favourite accessory is guaranteed to keep long hair tangle-free (Gucci).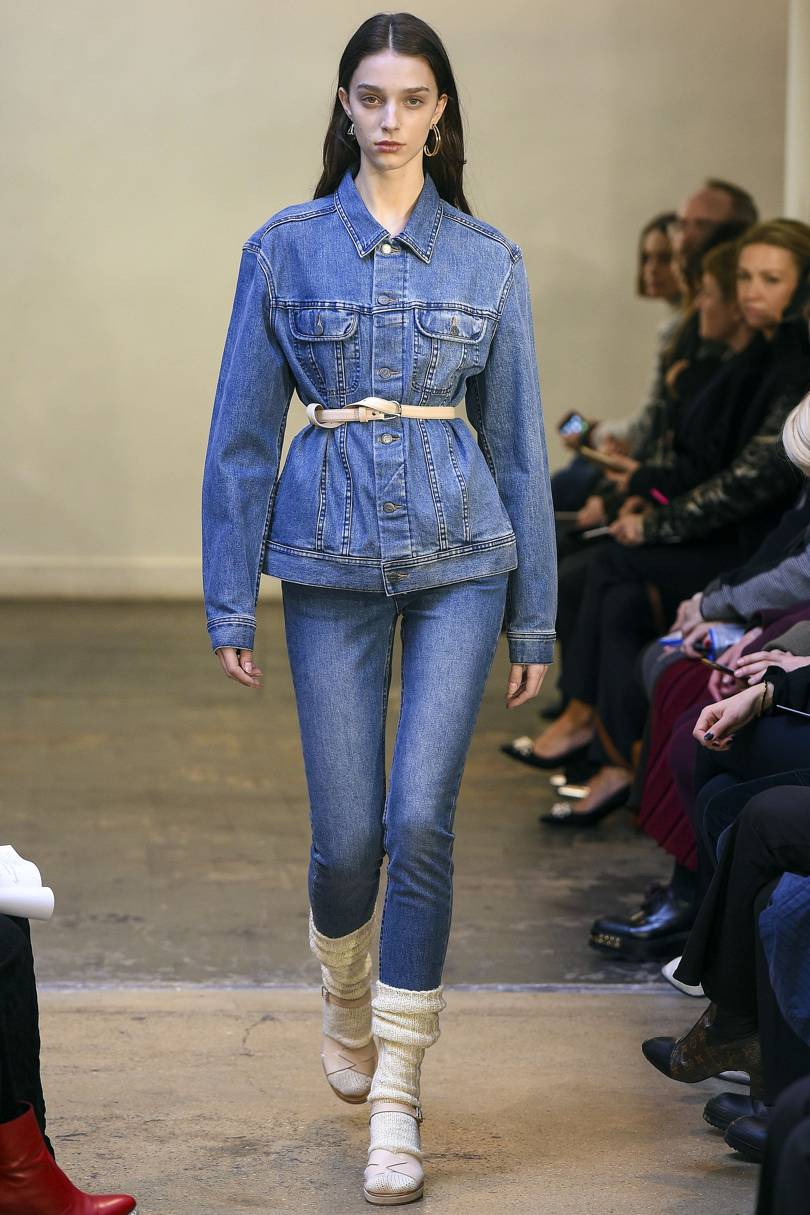 2. Safety First
Hang on to your belts. What's our favourite 'D' word? Denim. The past couple of seasons have been dominated by denim and we are too happy re living our 90's passion. Upgrade your denim wardrobe by digging out your disco belts or make a dive for some fresh colour and invest in your waist line- pain free! APC's autumn/winter show was a masterclass in how to style denim now. (APC)
4. Cropin' cords
The skinny jean who? Prada's chocolate corduroy slacks are the pants we want to wear now. Note the slouchy straight-leg cut. Summer 2017 is ripe for a 1969 Woodstock revival, cropped tops and Baker Boy hat to boot. (Prada)
5. Lose the pants
(Keep the blazer). We're taking tips from Louis Vuitton's Kyoto resort 2018 show. Trade the heavy winter suit pants in for a bare leg, an asymmetric shirt and a chunky ankle boot to claim your immediate 'it girl' status. To achieve an evening city glam look; ditch the shirt and replace it with multi layered necklaces or chains and a pair of statement earrings. (Louis Vuitton)
6. Adopt Acid
If there was one colour that epitomises summer, it's yellow. This season, it's all about new wave acid brights and clashing blocks of colour. Pink and red is officially back. See Sies Marjan's zingy knitwear and silk skirt pairing. Sies Marjan's zingy knitwear and silk skirt pairing.(Balenciaga)
7. Incorporate leggings into your look
For when the summer nights get nippy; Up style your summer jackets with a pair of stirrup leggings and spiky kitten heels. If Balenciaga's spring/summer 2017 show didn't convince you that binding spandex trousers are actually a good idea, the pre-fall collection will. (Balenciaga stirrup legging x Manolo's)
8. Channel Carrie in SATC, season 2
Strappy sandals have ousted chunky platform boots for Saturday nights. The mood? Seventies-cum-Nineties New York chic (as seen at Raf Simons' debut autumn/winter collection for Calvin Klein). Keep your coat on, keep your legs bare, and flash an immaculate pedi via the skinniest heels.