Summer is upon us! Although, for those of us in our London office, we've definitely seen bluer skies and needed fewer layers...
With holiday fever in the air and everyone ready to pack their bags for a few days away in the sun (we know its out there somewhere), we've been reminiscent of vacations past and swapping recommendations. With so many of the team frequenters of the beachside town of Marbella, we've pooled our knowledge to bring you the best of browsing, boozing, brunching, boogying and of course, somewhere to recharge- It just may be time to book that last minute trip.
Shopping:
Marbella is a shopaholic's paradise- so make sure you pack light or risk transforming into Michelin man at Malaga airport. Home to the most prestigious luxury brands and high-end designers, Puerto Banus offers the finest of fashion from 10 until 10 (Am/PM). Warning* ice-creams will not be allowed in Chanel.
If you ever want a break from baby Chloé or lost your invite to Hermès, why not take advantage of the breadwinning Spanish fashion at a discounted rate? Zara, Massimo Dutti, Berskha, Mango and many glamorous boutiques can be found in the Marina Banús mall. It is no secret that all ofInditex-owned stores carry a cheaper price range in their motherland of Spain.
At the heart of Marbella's shopping scene is the iconic hidden gem; Orange Square. Located towards the end of the Golden Mile, it boasts beautiful old churches, orange tress-lined outdoor restaurants and streets and streets of wonderful quirky shops. Finally, a tourist favourite are the 'Flea Markets', where you can find just about everything and anything. The best one happens at the Plaza de Toros (The bull ring), on a Saturday morning. Top tip: get there as early as possible as around noon, the temperature soars.
In the Daytime:
What is even better than a night club? A beach club! Why wait until the sun goes down to party when you can work on your tan whilst enjoying a few* cold beverages and dance all day long. Marbella is infamous for its beach clubs and pool parties- they are definitely not to be missed. It is advised pre-book, outfit choose and bring sun cream before you arrive! The The Ocean Club, Puro Beach, Nikki Beach, Sisu and La sala are all well known favourites for a great day time boogie. Each club has specific events on per day so for more information follow our handy links.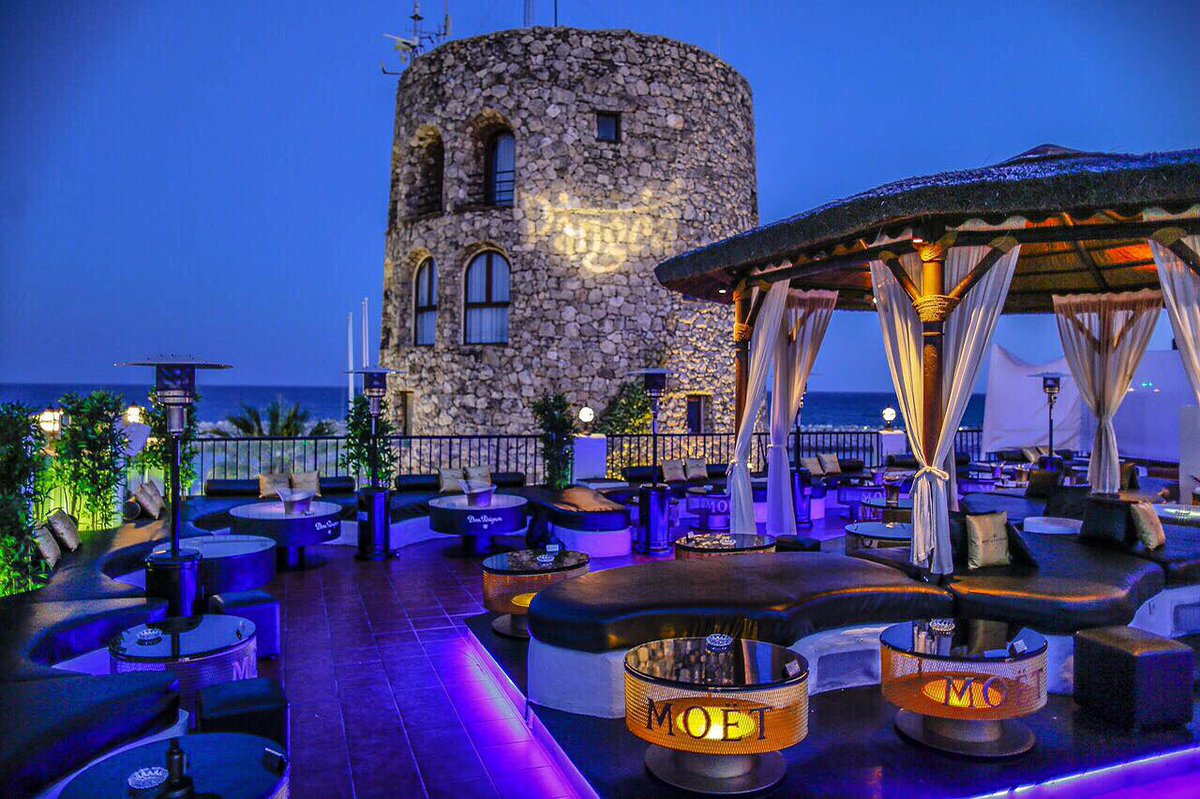 Clubbing:
Marbella is famous world-wide for its buzzing nightlife and classy watering holes. This exclusive holiday resort has no shortage of super cool bars and legendary night clubs that attract visitors and celebrities year after year. Some of the best places to be at night are Pangea, Funky Buddha, Olivia Valere, News Cafe, Tibu, La Suite Club.
Dining:
Of course in Marbella, one must take advantage of the delicious Mediterranean diet. Meats, fish, olives, and of course wine can be found in abundance. And at five star quality, accompanied by exceptional service. There are so many fine dining options to choose from. La Sala Banus, for your club music and easy exit to the Port (three minute walk to the strip). Zen, for your white table cloth, oriental thirst. Finca Besaya, for beautiful food in a stunning location, Macaao Beach Club, for day time eating by the sea front. Restaurant El Comercio is located in San Pedro; the nearest village just a ten minute drive from the Port. It is cheap, cheerful and in possession of the best tapas you'll ever have.
The San Pedro Boulevard was opened last summer and is an architectural dream. It boasts several amazing restaurants with great affordable food. Nao is just one of the fabulous cuisines. If you feel like venturing a bit further out, the Claro Beach Club is a stunning tropical setting at the end of Laguna Village; they offer quality food at affordable prices. Describing themselves as earthy chic, the club has everything you need to relax and unwind - including impressive facing Gibraltar as you chill out by the sea.
Stay:
Finally, after shopping, eating and partying, you need somewhere to rest your head. The Hotel Guadalpin is the luxurious five star hotel located right on the beach in the middle of the Port, the pictures do not do this fabulous location justice. Sisu Boutique Hotel (already mentioned for its epic pool parties) is also gorgeous and in walking distance from the strip. If you like loud music and a constant party, this is the hotel for you. Hotel Barcelo is a great family hotel located just outside the Port in San Pedro. It faces the golf course, has a huge pool and usually does great package deals. Designed to recreate the character and charm of an Andalusian beachfront village, Puente Romano Beach Resort & Spa opens its doors to Marbella's blue skies and the majestic Mediterranean Sea. Alternatively, if you are travelling to Marbella as a group renting an apartment or villa may be a more economical option. The Casablanca Beach Marbella is an apartment resort of the utmost luxury. The properties are built in a unique style of which is unmatched in Marbella and the surrounding areas, accompanied by spectacular sea views, tropical gardens and a pool. Hotel not your style, how about a Marbella villa?
Get booking - its time to get some vitamin M!